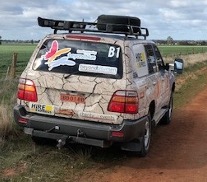 When you "go bush" with Charity Car Events you will have a heap of fun, but not at the expense of safety. We make sure that things are done safely, so that everyone enjoys the experience.
We have a comprehensive set of safety rules that are based on a common sense approach to life.
When you rally with Peter & Trish and the Team at Charity Car Events you will know that nothing is left to chance.
It's all about fun and fundraising in a safe and controlled environment.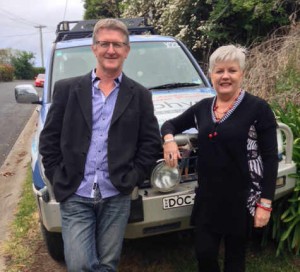 Peter and Trish Fehon are experienced fundraisers, having supported various causes all their adult lives.
They have worked on multiple fundraising events that have raised over $500,000 in one night.
The secret to these events were passionate people having fun together supporting a good cause.
Peter is an experienced 4WDer and has participated in many Royal Flying Doctor Outback Car Treks. Each one of these events has raised over $1 million for "The Doctor".
Peter organises events that are suited to the skill levels of the participants, and works with various charities to ensure that their events are a success.
Peter's eye for detail ensures that everything runs smoothly, and that people keep coming back for more.
It is simple to make "one-off" events become "annual" events, ensuring reliable income streams for your charity.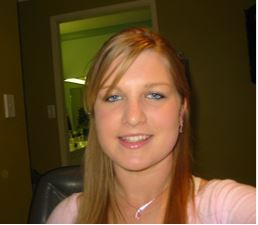 Many people know our personal story, and understand why we support Beyond Blue, but some people may not. Below is the story of our daughter, Beth, who succumbed to depression in 2005.
Beth Maree Fehon
07/05/1988 – 12/02/2005
Beth was a very shy child, she took a while to warm to people and the environment she was in. She didn't want to go to pre-school so her younger brother Jake agreed to go with her. Once she started school she gradually came out of her shell, but she was still basically shy. Even in high school she would send Jake to the canteen for her. Most people didn't see this side of Beth, to all her friends and teachers she was an outgoing popular girl.
She had a way of making us smile, she had a very happy cheery attitude that she portrayed to the world. Our happiest memory of her is her sliding down the hallway in her socks, stopping at the end to make some funny comment. She was our joker and our bright shining light.
When she took her own life in February 2005 our world changed forever. In fact it felt like it stopped for a long time. What followed was months of desperate searching for an answer to that elusive unanswerable question – why? That question was never answered and no doubt never will. We have come to the conclusion that there is no answer.  Probably Beth didn't even really know why.
Depression is an illness and all too often it's fatal.
What got us through this? Our faith in God and our belief that he does all things for the good of his people. That may sound contradictory if you don't believe in God. A favourite bible passage of ours is Hebrews 11 v1 "Now faith is confidence in what we hope for and assurance about what we do not see." That's the best way to describe why we believe. Now 12 years on in 2017 we are once again "happy" but we still miss our darling girl every day. But we know that our time in this world is just a speck compared to eternity with God (and Beth).
Peter & Trish Fehon