BEYOND BITUMEN RALLY – CARS
We have two categories of vehicles.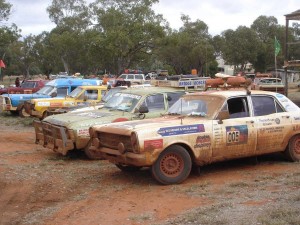 Category 1: Our events are suitable for most modern 4WD vehicles (Landcruiser, Patrol, HiLux, Navara, Triton, etc.) Some SUVs may also be suitable, but it will depend upon the actual roads that we will take on your event. Please check with Peter for individual cases.
If you don't have a 4WD but would like to participate, give us a call and we can put you in touch with a specialist hire company that can provide suitable vehicles at affordable prices.
Category 2: Well prepared old 2WD cars are also eligible to enter. Cars that have been prepared for any of the specialised fundraising car events will be eligible to enter. There are many cars around the country that are just collecting dust, for a number of reasons. A 3 or 4 day event with a moderate entry fee is a great reason to dust of the old car and do what it was built for.
Our most successful events have a mixture of old and new vehicles. This way there is always a 4WD available to tow an old car that may have broken down, which is part of the fun anyway.
PROSTATE CANCER RALLY – 4WD's
Any 4WD well prepared vehicle may enter the event. Your vehicle must be:
Road registered,
Roadworthy and insured for minimum Third Party property.
Have the required safety equipment as detailed in the Rules and Regulations (see separate listing).
All vehicles must have minimum UHF radio fitted and a snatch strap.
Event indemnity form completed by all entrants (at the first night briefing).